2019 General Meeting: a dynamic Appellation, keen to protect the biodiversity of its vineyards.
---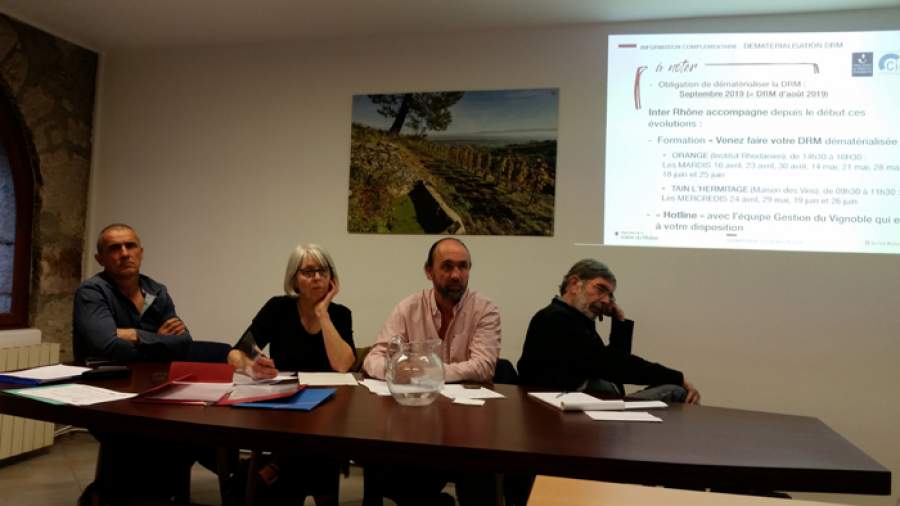 The Appellation's AGM took place on 5th April 2019, a crucial opportunity for reviewing the past year while setting forth the main lines to be followed in the coming months.
A quick reminder of what took place at the meeting!
The AGM decided to amend the Appellation's articles of association so that the Board of Directors may be authorised to amend and approve the Appellation's Terms of Reference and the inspection plan to be respected by the wine growers.
The activities report and financial report were then voted unanimously.
Anne Colombo, our Chairwoman, reminded the participants how the previous season had heralded future climate changes and how important it was that every wine grower adapts their wine-growing methods accordingly.

Various issues and situations were discussed, beginning with the choice made to limit the growth of the planting areas to 1% per year, in order to ensure a good balance for the Appellation's wines between old vines and young crops, and therefore to maintain their renowned quality.


The members of the executive board were then partially renewed.
4 members (Vincent Paris, Franck Balthazar, Guillaume Gilles and Sébastien Michelas) wished to pursue their term of office, and a new wine grower, Emmanuelle Verset, has joined the team. They all introduced themselves and presented their motivations. Protecting the interests of the Appellation was, of course, at the heart of their intentions, along with, for many, the desire to combine winegrowing and biodiversity. A great plan!

Several matters were then raised, demonstrating the Appellation's drive and its close relations with the Farmer's Association or the OIVR (Rhone Wine-growing Inspection Authority), the Côtes du Rhône, theVignobles de la Vallée du Rhône,the Tourist Office, etc.

Flavescence dorée, new treatment methods, a plan for observing biodiversity with the University of Montpellier and the Côtes du Rhône Environmental Strategic Action Plan were also discussed.

The latter, in particular, provides many possibilities for wine growing by using agro-environmental methods and sets a target that 50% of Côtes du Rhône vineyards will be certified as "High Environmental Value" by 2025, then 100% in 2030. It is an ambitious and challenging plan, which also relies on the essential support of consumers and the research into varieties that resist the main diseases affecting vines!
Finally, the members of the Board of Directors reviewed the highlights of the year:
the organisation of the 80-year anniversary celebrations, the Wine Market, the efficiency of the Commissions and the implementation of the website were discussed.
The evening ended with a much-appreciated and friendly
wine-growers' spread.